Tot Spot Play Area
- Muncie Children's Museum-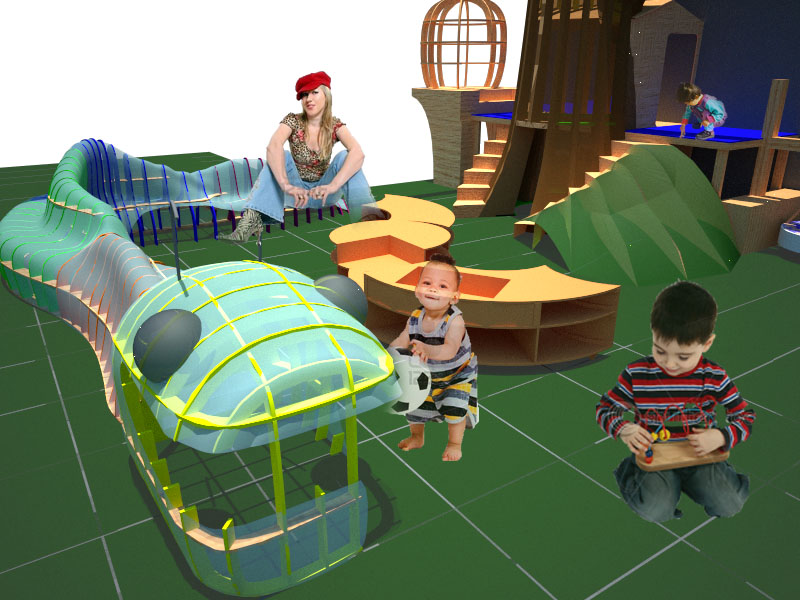 The Hungry Caterpillar
As part of a unique studio sequence, Ball State University students partnered with The Muncie Children's Museum to design a permanent instillation for toddler play, complete with various themed areas that were built in phases. Throughout the duration of three years, More than 50 undergraduate and graduate students participated in moving the exhibit from drawing board to museum floor.
Our Fall 2009 studio was engaged in the schematic design of the overall space as well developing the construction documents for each of our assigned areas. I was tasked with creatively defining the block and manipulative play area.
As part of our research, our studio visited children's museums in Minneapolis, Terre Haute and Madison, Wisconsin. Ideas progressed from sketches to schematic designs to mock-ups to full scale models as we observed case studies and absorbed our research. Each component of the exhibit had to earn the approval of several key audiences. Each student team was given an area to develop and program; creating a unique space while maintaining fluid relations to the adjacent designs was a powerful lesson in teamwork and coordination.
Our "site" location was at the very corner of the instillation; a key attention-grabbing area that clearly serves as an area for an iconic, landmark piece. This icon would be one of the first pieces built during the overall instillation.
The hungry caterpillar teaches kids about growing up and transformation; it is iconic and a great theme for providing a brightly interactive object that parents can sit on, children can crawl through and where manipulative play items can be stored inside.
Design | Build | Implement
Using Ball State University's expertise in Digital Fabrication methods, our team explored the possibilities initially of an undulating 'root' form that would serve the multiple needs of the users as well as provide something different and interactive. This idea eventually lead into a fun caterpillar bench. We also designed a moving table with round, fitting partitions that enable the space to be manipulated for flexible use, and researched extensively on the kinds of toys that would be utilized in this space by our 2-5 year old clients.
This project was taken through all levels of design from concept in 2010 to built product in 2012. Our design was realized the following fall studio, and modifications were made during the construction process, however the essence of the caterpillar bench remained as a fun, interactive play item that the residents and visitors to Muncie can enjoy for decades to come!
In addition to being involved through out the schematics and design development of this process, worked with my Visual Communication's studio to develop a branding and marketing campaign highlighting this effort, as well as design key promotional products for the museum's gift shop.
To view this project, please visit the link below:
A big thank you to Pam Harwood, Ball State University, The Muncie Children's Museum and the many students and professionals involved with all phases of the project from start to finish.
For more information on this project see the following links below:
Muncie Childrens Museum Webpage
The Community Foundation Press News Release
Big Hands for Little Hands Blog
*Pictures shown are personal images taken during the design and construction unveiling of the Caterpillar and Giving Tree. All members and children in photographed signed a waiver acknowledging their consent and permission to be photographed. These images are displayed for educational purposes only to document my role in this process during my time at Ball State University. All other images have been taken from the following citation, used only to show the end product within the finished built context by subsequent studios in 2011-2012.
Images provided by the Community foundation (http://www.cfmdin.org/). All rights reserved.