Foothills Clinic
- A Federally Qualified Healthcare Clinic -
Programming
The Spring 2015 studio within the Architecture + Health concentration offers a range of selected projects engaging a variety of health related topics including the design of specific healthcare spaces, healthy community design, sustainable/green architecture, ambulatory care, long term care and community healthcare projects associated with health and well-being. Projects are executed by teams or individual student design alternatives. This studio brings the unique opportunities for partnerships and collaborative projects with inhabitants, occupants, clients, professionals, or representatives of these groups brought in when appropriate to inform, discuss and review student work. Our studio with Byron Edwards focused Programming smaller clinic spaces, and overlapped with our Programming coursework as well as with the Ambulatory Care comprehensive studio that was being undertaken by the graduating class.
Our Spring studio project was part of an NCARB grant award to the Clemson Master of Architecture + Health students to look at Federally Qualified Health centers in the Upstate. Foothills Community Health Care Center (Formerly Heritage Federally Qualified Health Center) is located in Central, near the campus of Southern Wesleyan University in Central, South Carolina. Working with Dr. Voss, and George Newby, the CEO of Foothills Community Health Care, Inc., we helped develop and design the scope for their next facility. (Click to Enlarge:)
FQHC Clinic Design
The project addressed and challenged the needs and criteria for establishing community FQHC clinics, and involved students with a real client and professional Architects to lead brainstorming sessions and develop optimal space layouts and programming. The clinic design set forth to address the specific environmental issues of the site at large, such as topographic, vegetation, soils, site access, and utilities, but it should also consider and address the specific cultural, racial, socio-economical, and political issues within the Campus, the surrounding neighborhood, and the immediate community.
As students, we were challenged to engage in self-motivated questioning, critical and creative thinking, rigorous exploration, and personal position making. A willingness to engage in dialogue, exchange ideas, and contribute to the collective growth of the studio. As part of the NCARB Grant we were able to visit a number of case studies in the Upstate and in Minneapolis, MN. We developed, over the course of the semester, a master planning proposal once given a site selection, performed analysis, and conceptualized a schematic design. (Click to Enlarge:)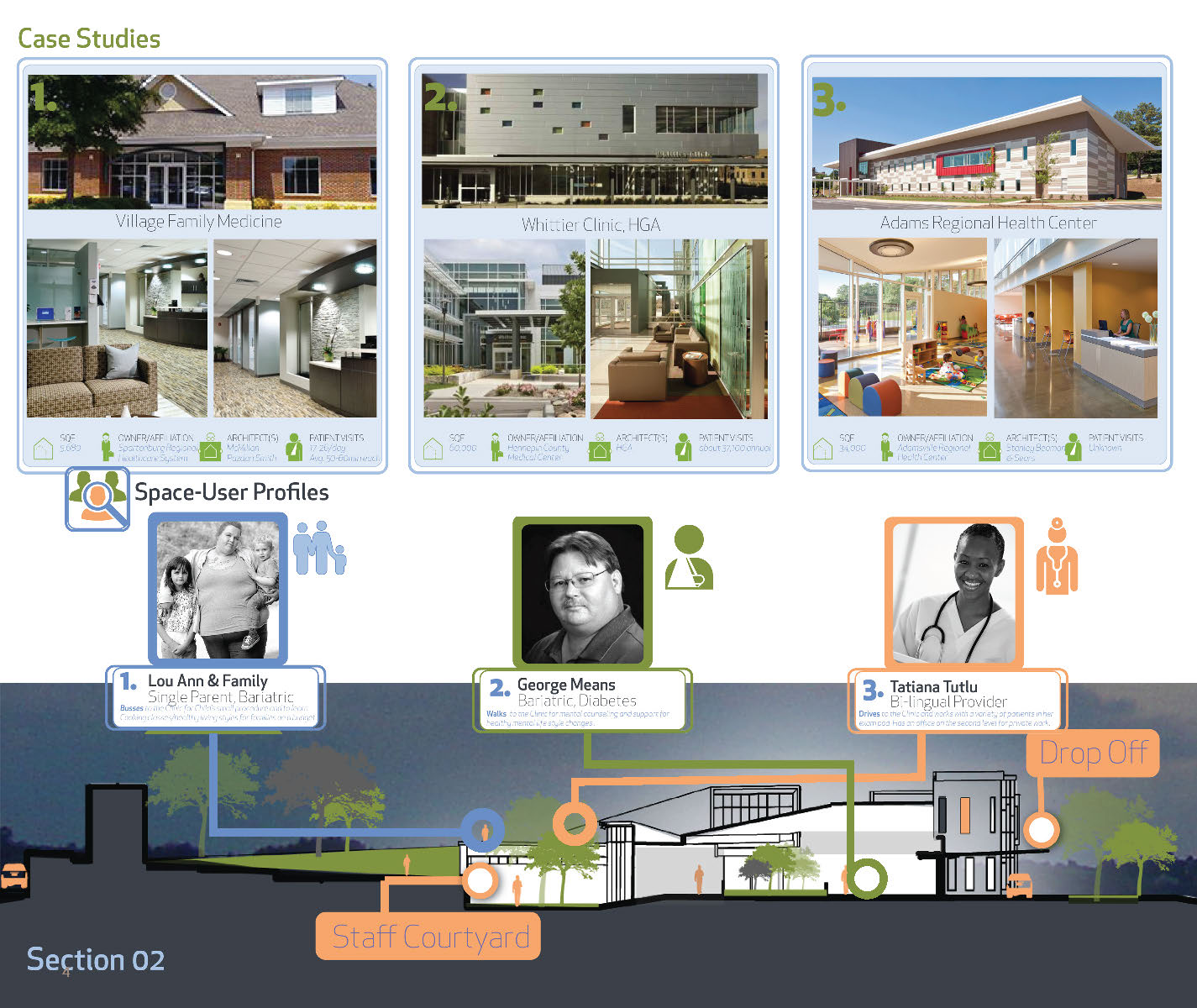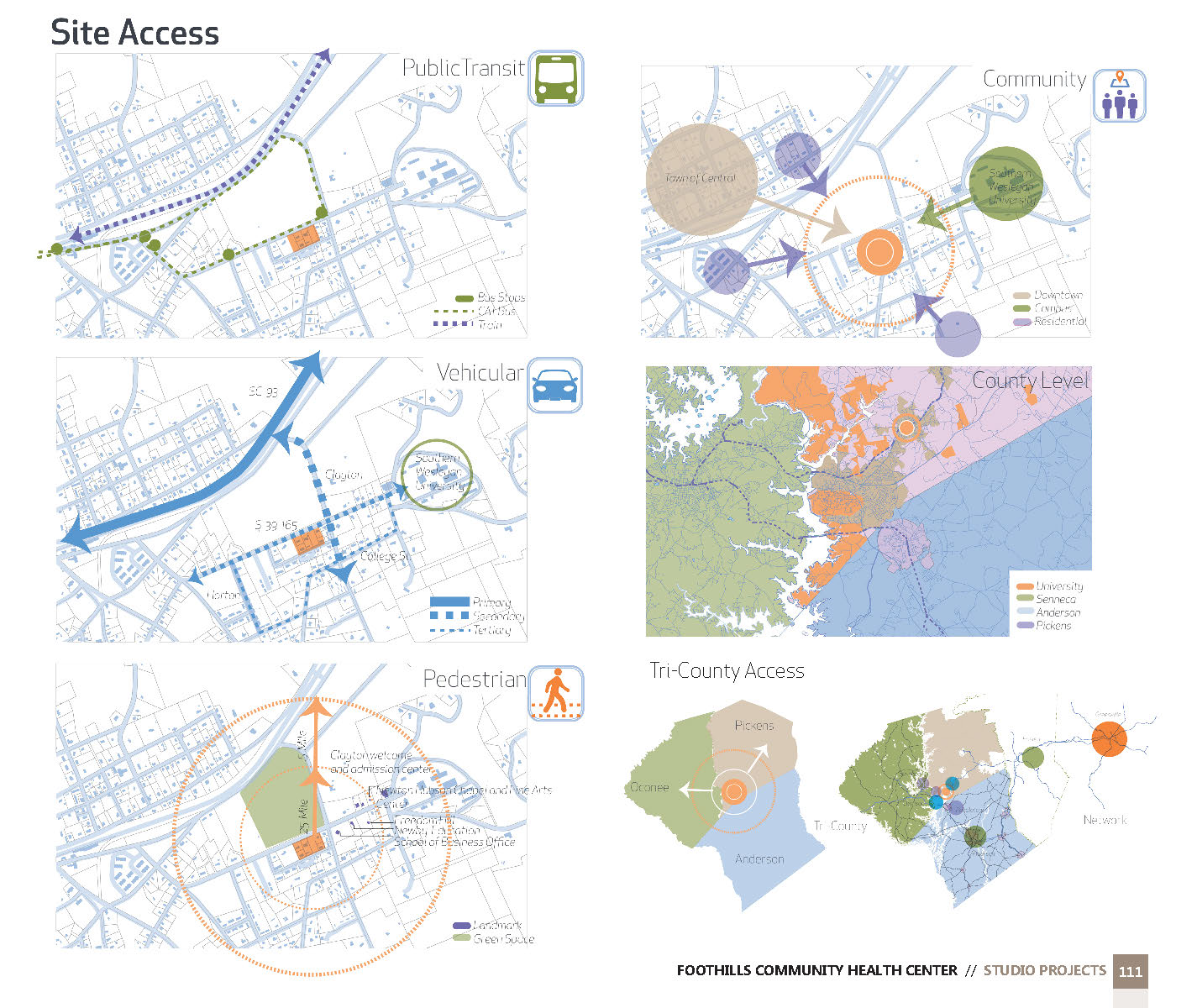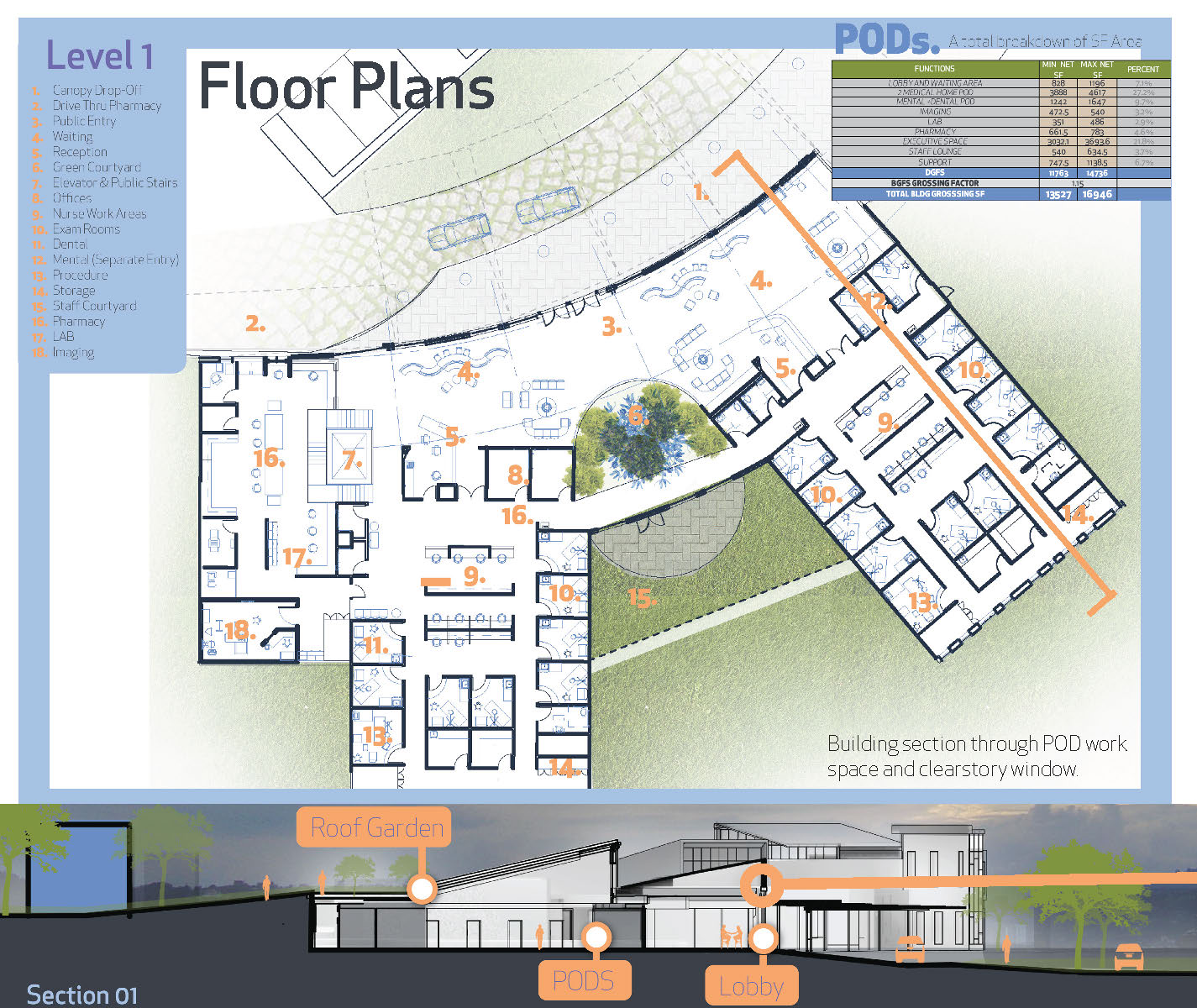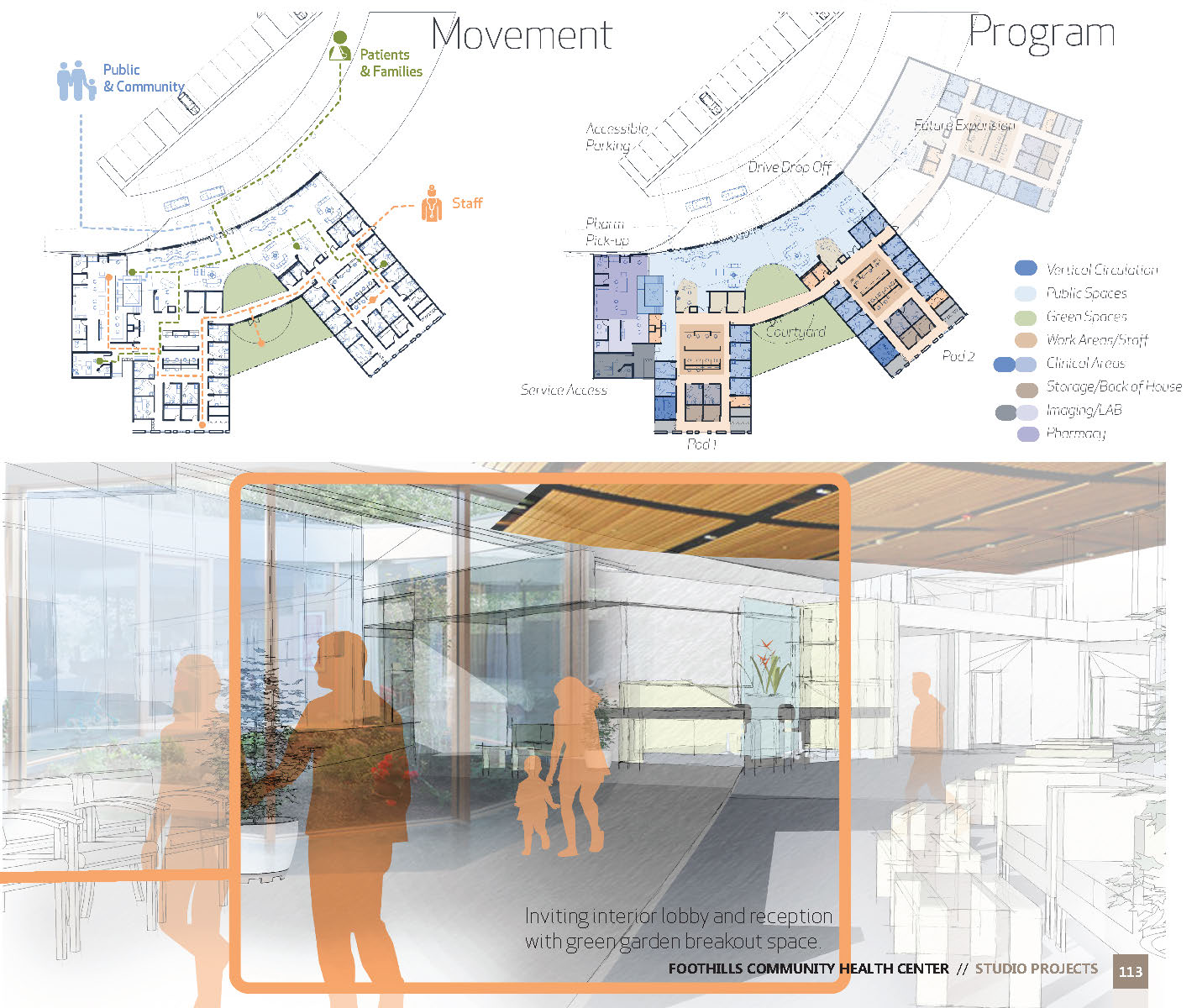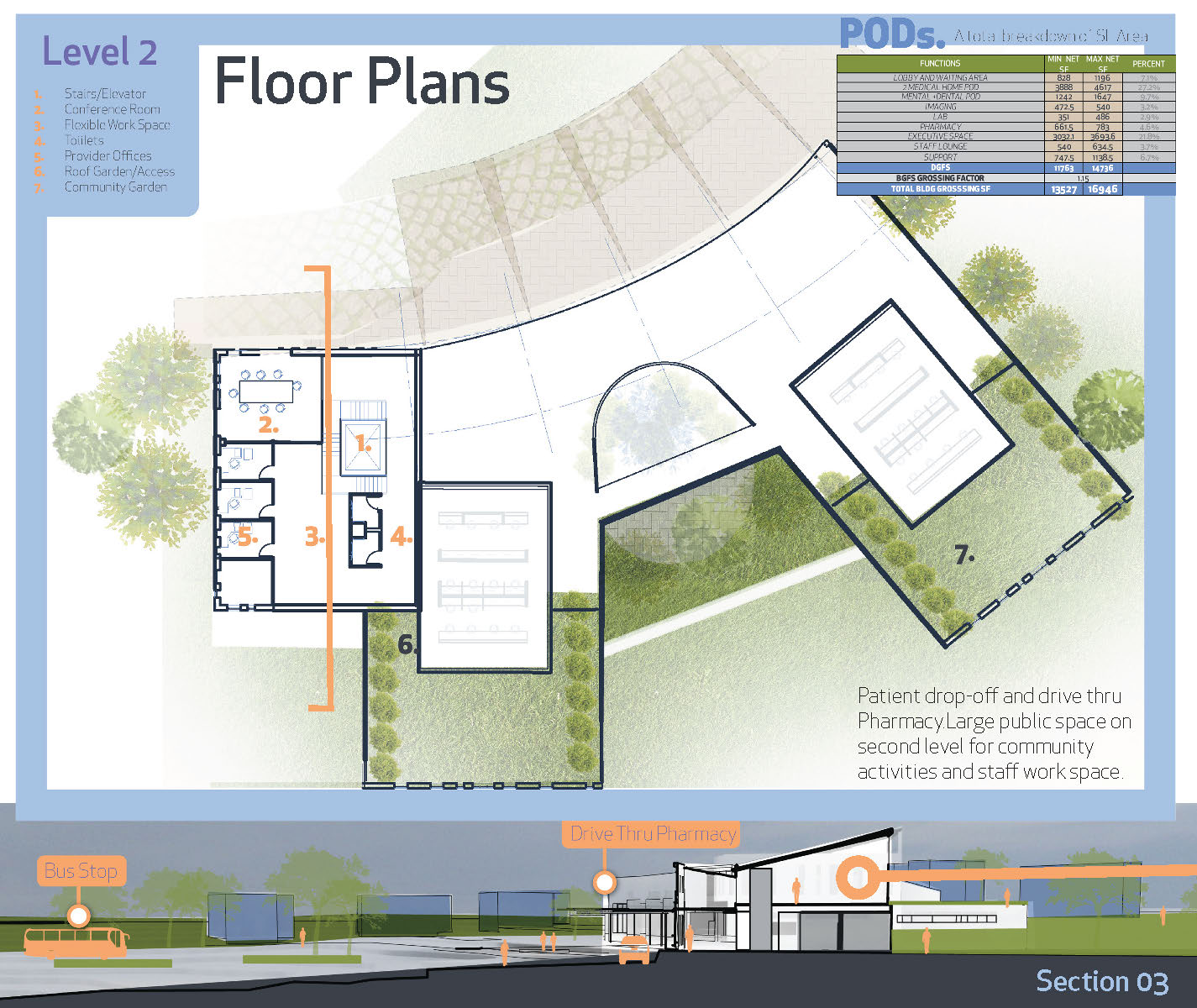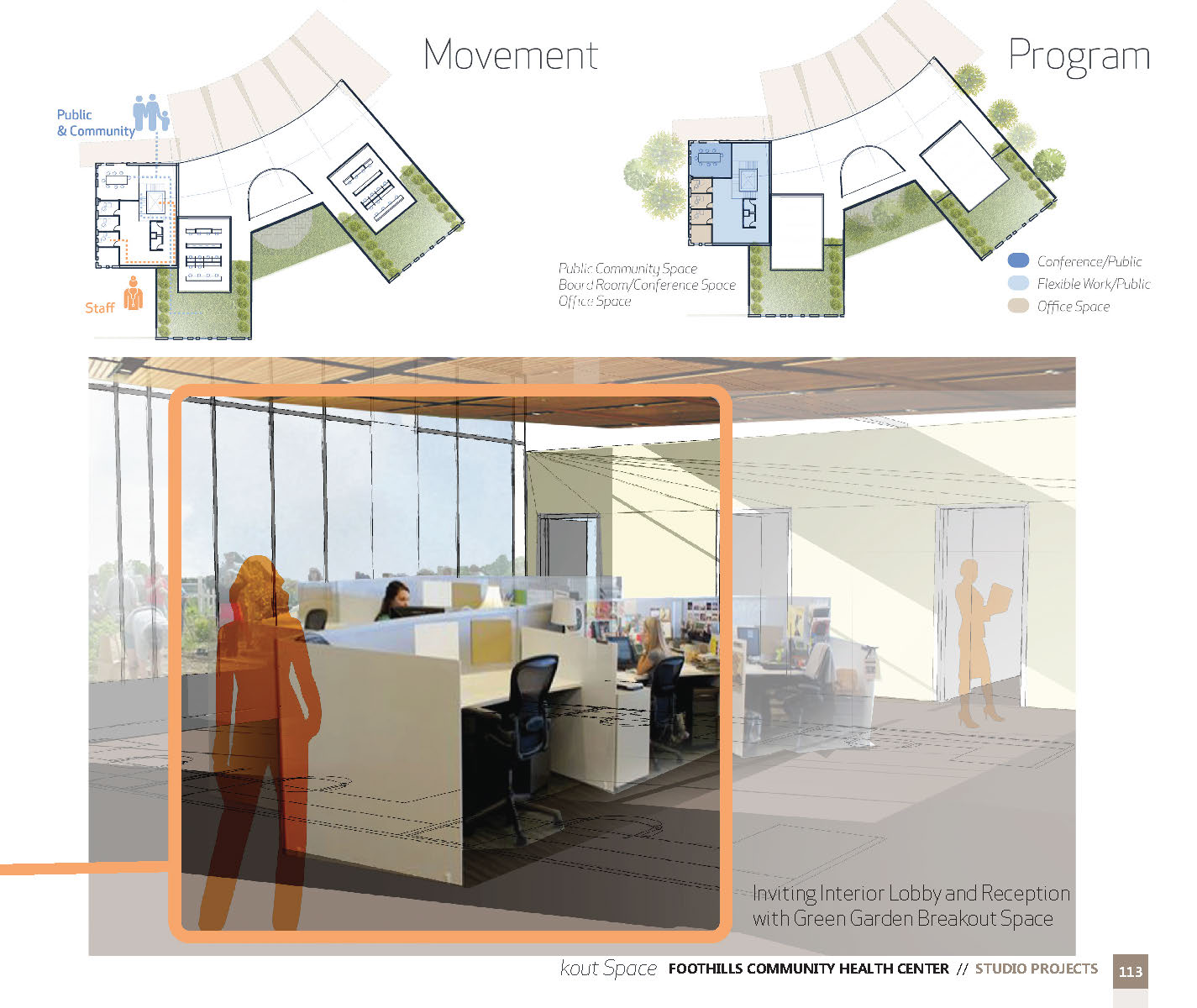 Accessible Delivery in a Community Oriented Primary Care Model
The Foothills Clinic is a federally qualified healthcare project representing the unique foothills community in Central, SC. Nested in the Tri-county area, its location is pivotal "nucleus" to providing healthcare to the medically underserved populations of Clemson, Central and Anderson. The site design takes into account the connection to the Southern Wesleyan Campus, the local downtown areas and the residential areas surrounding it. It responds to the variety of people through access and provisions granted to various nodes of transportation. The building itself is designed as a series of medical pods that array around a central access drop off point, and nestle within the landscape; each forming a different relationship allowing for a semi-hidden building with accessible roof gardens and recessed courtyards. The design, with the possibility of adding an additional radial pod in the event of clinic expansion, seeks to utilize the context, provide green courtyards, daylight access for patients and staff in every exam room, provide ample outdoor shaded space (green parking plaza), and sustain community through providing equitable and easy access for primary healthcare.
Board Layouts: